CATCHMENT
A catchment is all the land that drains into a river and its tributaries.

STAKEHOLDER
In a Catchment Partnership, a stakeholder is any individual, group or organisation who has an interest in, or an impact on, the health of the river and its catchment.

ECOSYSTEM SERVICE
Ecosystem services are all of the many benefits we gain from the environment, including clean water, clean air, food, energy and places to  enjoy.
What We Do
We facilitate communication between everyone working within the catchment landscape. Through creating oversight of the projects, strategies, and targets within the catchment the partnership can help to develop collaborative projects and initiatives which will protect and improve the health of the rivers.
How We Work
The Tamar Catchment Partnership is hosted by Westcountry Rivers Trust.
The partnership is composed of a 'Steering Group', 'Technical Members' and the 'Wider Partnership'.
The partnership typically holds one whole partnership meeting per year and 3 Steering Group meetings per year, which are also open to technical members. We also hold ad-hoc specialist meetings and workshops on a specific theme, topic,  project or consultation.
If you have any news or updates you would like shared with the partnership these can be sent out in our regular emails, please send content to jenny@wrt.org.uk
We have a project pipeline spreadsheet to keep track of collaborative projects within the catchment and to support the development of new projects and funding bids. All partners are welcome to submit project ideas to be developed in partnership.
There are a number of other partnerships working across the Tamar, whose work also influences the catchment. We aim to act as a link between these partnerships enabling communication and collaboration and avoiding duplication of efforts.
For more information on how we work see our Terms of Reference.
We're always looking to hear from more of our stakeholders, so if you live or work in the Tamar Catchment and would like to get involved with the Partnership, get in touch!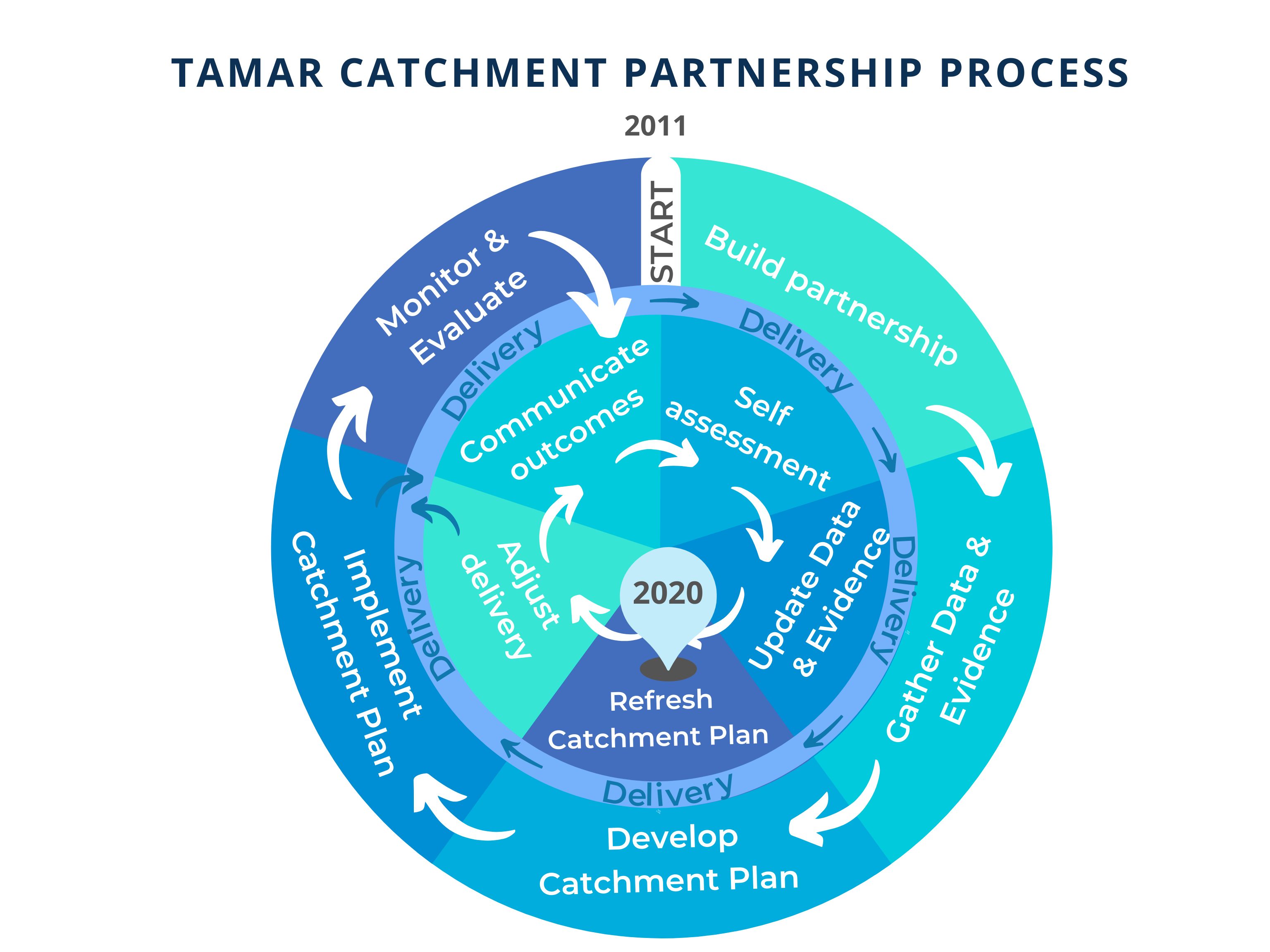 Data & Evidence
In 2011, stakeholders and technical specialists came together to undertake a review of all the natural assets we have in the Tamar, the benefits they provide us with, and the opportunities to improve or maximise these benefits.
You can see the maps and read the review here or scroll down to see the resultant opportunity maps. You can also find many other sources of data for the catchment on our resources page.
Our Approach
The Tamar Catchment Partnership takes a 'stakeholder-led Ecosystem Services' approach. This means we're led by the ideas and views of people who affect and are affected by the rivers in the Tamar Catchment, the 'stakeholders' and data & evidence.
Through workshops and discussions, we identify areas that play, or could play, an important role in providing all the things we gain from the environment – 'ecosystem services'.
Through this approach of combining stakeholder engagement with data and evidence, we are able to identify priorities for action, make strong cases for funding bids, and be more certain about the expected outcomes of activities.